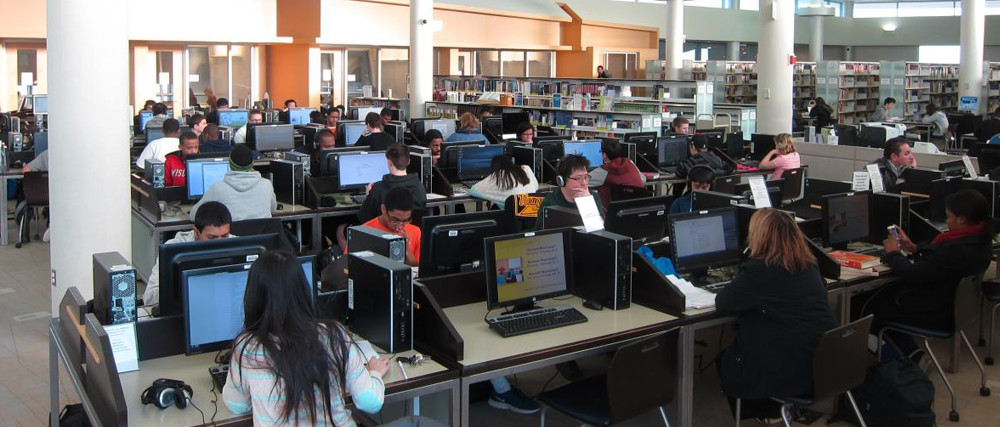 Naper Blvd. Library
---
History
---
Naperville's second library, the Naper Boulevard Library, opened with fanfare on Tuesday, December 29, 1992 at 2035 S. Naper Blvd. This milestone marked a new chapter in the community's illustrious ninety-four year library history, and was the direct result of Naperville's fondness for books and rapidly growing population.
The Library's story begins on Sept 22, 1898 with the original Nichols Library serving a community of 2,200 citizens located at the center of what was then a rural town. On March 11, 1986 the new Nichols Library, a $6 million facility, opened on Jefferson Ave., just a few blocks from the original site. On opening day, the new Nichols Library served 67,371 residents and had a collection of 141,191 items. The circulation grew from 460,000 items to 1.5 million in five years, because of the community's strong library users.
Naperville was fast becoming one of the largest cities in the state, and forward thinking city and library officials realized that a second library was needed. They looked for a location south of 75th St. to minimize the travel time of residents in that area while relieving congestion at the Nichols Library. The former Sylvester Allen Ballou farmhouse land area was chosen. The parcel was adjacent to Scott Elementary School, and surrounded by new residential subdivisions. By this time, Naperville had grown to 92,885 residents.
Naper Boulevard Library was designed as a full-service, Prairie-style library. It measures 32,000 square feet and cost $4.2 million dollars. While a total of 32,000 square feet was available, only the Main Level was completed initially and opened to the public. Six full-time staff, with assistance from Nichols Library staff, oversaw operations and a collection of 42,000 items.
On May 13, 1996, the Lower Level opened as the Adult and Teen Services area, allowing Children's Services to expand and fully occupy the Main Level. Since then, a much used Computer Lab was added.
Today, the Naper Boulevard Library collection contains 180,000 books, books-on-CD, magazines, paperbacks, CDs, DVDs, Blu-rays, and circulates 630,000 items per year! 10,640 adults, teens and children attended programs at this library last year, which now has 26 full-time staff. While Naper Boulevard is the smallest of the three Naper Public Library facilities, it serves a loyal and supportive clientele.
Location
---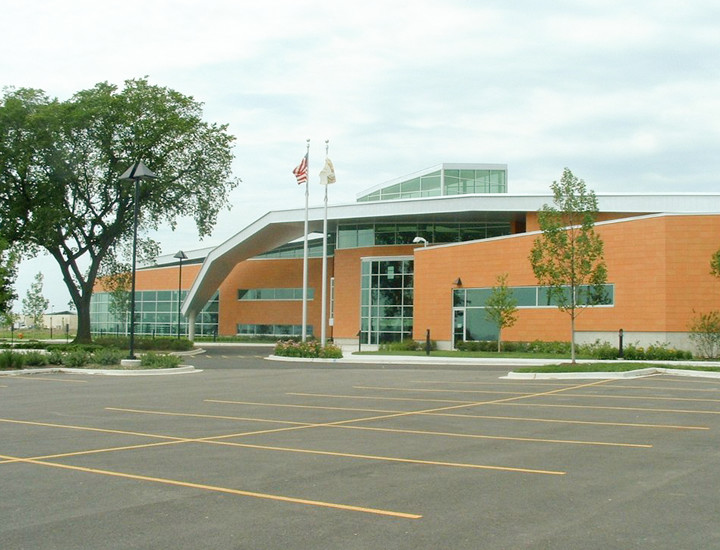 2035 S. Naper Blvd.
Naperville, IL 60565
PHONE NUMBER: 630-961-4100
WEBSITE: www.naperville-lib.org
Adult Computer Lab
---
The adult computer lab at the Naper Blvd. Library features 18 PCs and 1 Mac. There is also 2 stations with scanners. All stations have internet access. The computer lab at the Naper Blvd. Library has a wide variety of software to do everything from working on a letter to scanning photos to playing videos. Each PC is loaded with Windows 7, Internet Explorer, Chrome, Microsoft Office Suite 2013, and additional software.
Children's Computer Lab
---
The children's computer lab features 4 PCs with internet and online databases and 4 PCs with childrens games.
Printing is available at both computer labs.
Group Study Room
---
They have seven group study rooms, with a capacity of 2-4 available for public use. These free rooms are available on a first come first served basis, for limited time periods. The Library's group study rooms are designed to meet the needs of patrons who want to work together in small groups for limited periods of time.
Meeting Room Rental
---
The Naper Blvd. Library has 2 meeting rooms that are available for rent. They can accommodate anywhere from 12-65 people depending on the set-up.